For sale: Little old stone house +++ totally renovated +++ highest technical standard +++ with annexes and wonderful garden +++ For sale due to the advanced age of the proprietor +++ Location: outskirts of the village of Xinovrisi, close to Argalasti +++ Price: 164.000 EUR +++ Contact (English, German, Greek) 0049 5840 989580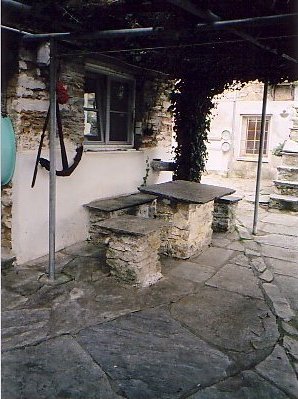 The propriety in a hole
The position of the plot with the house
Arriving from Argalasti, we stop at the first houses of Xinovrisi. We park our car and enter the first little road to our right. We pass along a wall with a door of forged iron.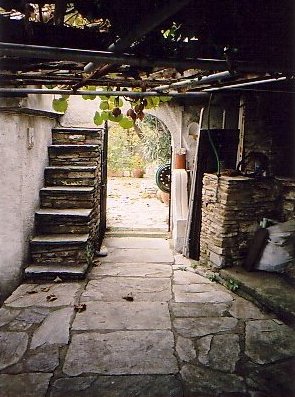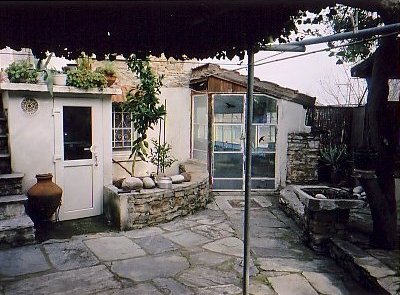 We ring. And than we engage a stair down to the house, surrounded by flowers and trees, step by step. The proprietor is just working at his grill. He is preparing some fishes, he did purchase from a fisherman. Letís drink a glass of wine and enjoy the look over the mountains down to the Aegean Sea.
By the way, we could have a different access to the house. Following the little road, passing the door of the garage, turning right down on an other little road and entering the winter garden of the property. In wintertime certainly the better way to do.
The garden
The garden is surrounded by a wall of almost two meters of height. There are lots of small terraces, each with a tree on it, some flowers, tomatoes, salad or other plants. On the far most side there is a place where the proprietor is producing his own biological humus. The real gardener does not use chemicals!
All together this area has about 650 square meters. The best is, that it is totally watered by an automatic system!